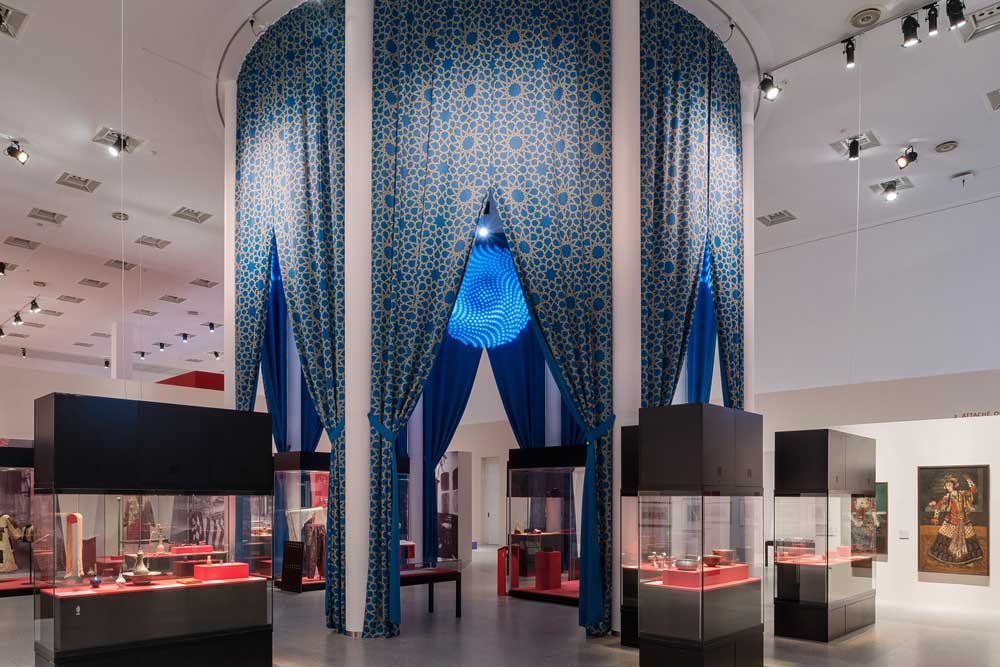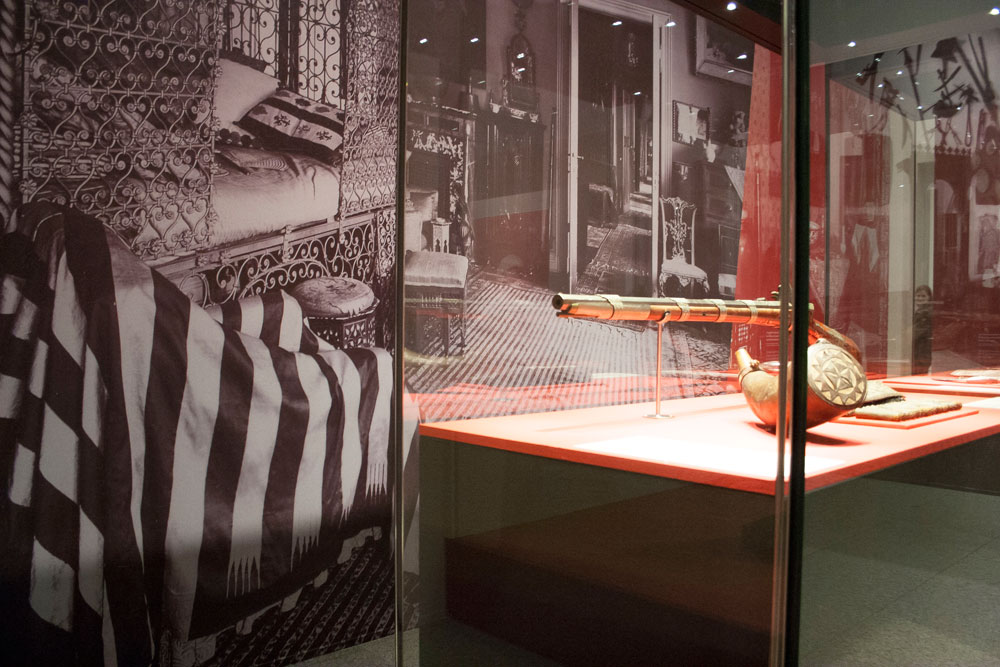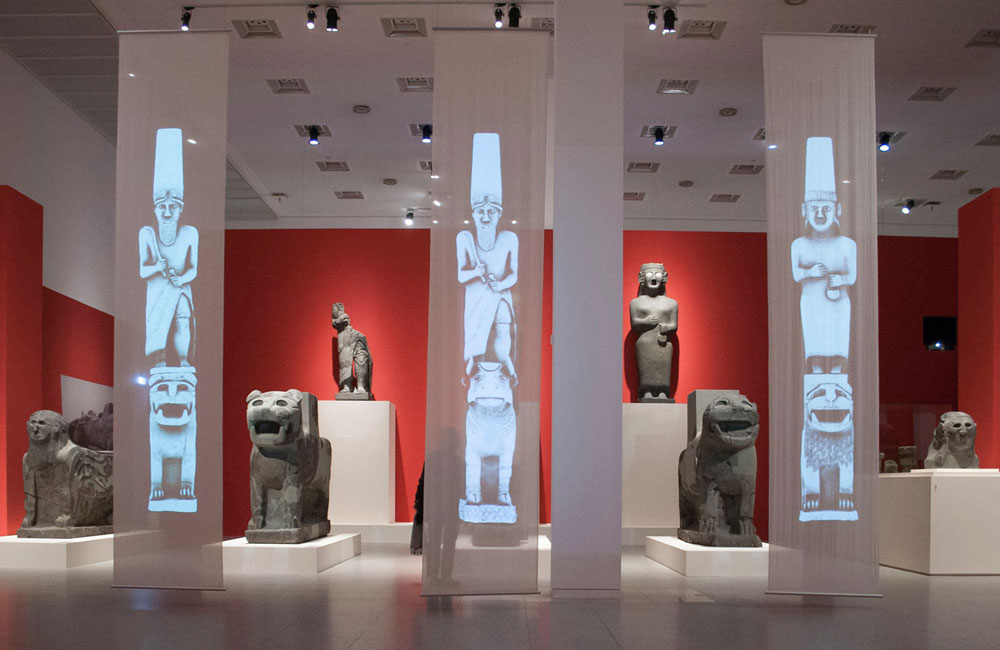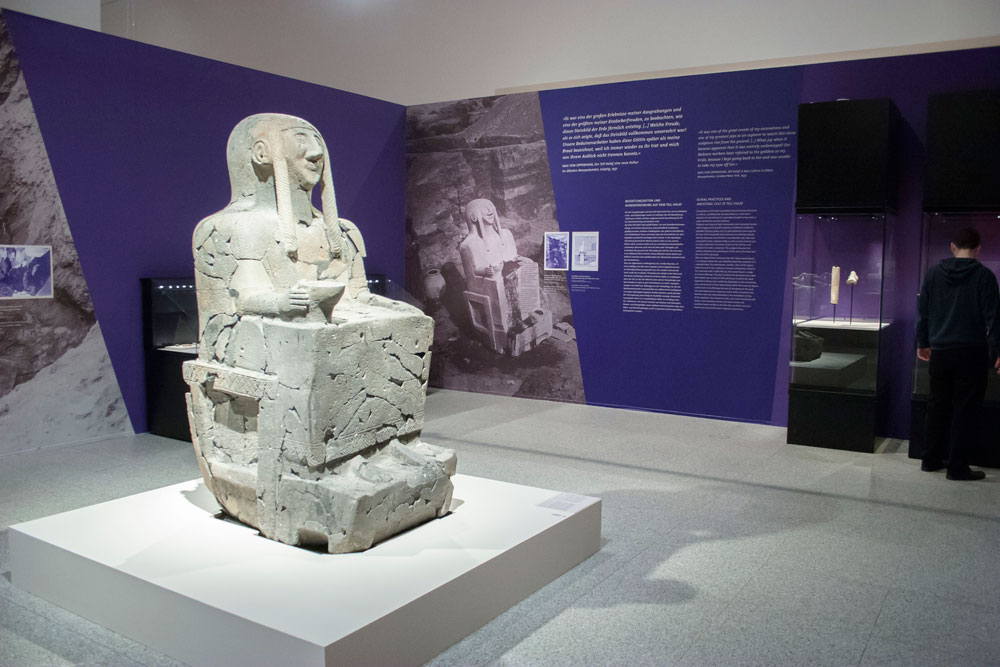 ABENTEUER ORIENT

Max von Oppenheim
und seine Entdeckung des Tell Halaf

Die Sonderausstellung der Kunst- und Ausstellungshalle der Bundesrepublik Deutschland in Bonn führt den Besucher durch die ereignisreiche Biografie des Kölner Diplomaten und Archäologen Max von Oppenheim.
Anhand von tonnenschweren Bildwerken, Reliefs und Kleinfunden werden von Oppenheims Schürfungen am Tell Halaf im nördlichen Syrien gezeigt und erlebbar gemacht. Zum ersten Mal wird die Eingangsfassade des Westpalastes nach den Vorstellungen Max von Oppenheims nachgebildet und durch virtuelle Rekonstruktionsvarianten ergänzt.
Was? Sonderausstellung  Wann? 30. April bis 10. August 2014  Wer & wo? Kunst- und Ausstellungshalle der Bundesrepublik Deutschland, Bonn  Mit wem? Mitarbeit bei Bertron Schwarz Frey GmbH, Berlin & Ulm, unter der Entwurfsleitung von Prof. Ulrich Schwarz  Was genau? Projektleitung – Wettbewerbsentwurf bis Umsetzung (LPH 1–8)
Bundeskunsthalle Bonn | Abenteuer Orient
Bertron Schwarz Frey | Abenteuer Orient
The special exhibition at the Bundeskunsthalle in Bonn guides the visitor through the eventful biography of the Cologne diplomat and archaeologist Max von Oppenheim.
By means of extremely heavy sculptures, reliefs and small finds, Oppenheim's diggings at the Tell Halaf in northern Syria are being shown and experienced. For the very first time the entrance facade of the Western Palace has been replicated and supplemented by virtual reconstruction variants according to the ideas of Max von Oppenheim.
What? Special exhibition  When? 30th April to 10th August 2014  Who & where? Kunst- und Ausstellungshalle der Bundesrepublik Deutschland, Bonn  With whom? Collaboration with Bertron Schwarz Frey GmbH, Berlin & Ulm, under the creative leadership of Prof. Ulrich Schwarz  What exactly? Project management – competition design to realisation (LPH 1–8)