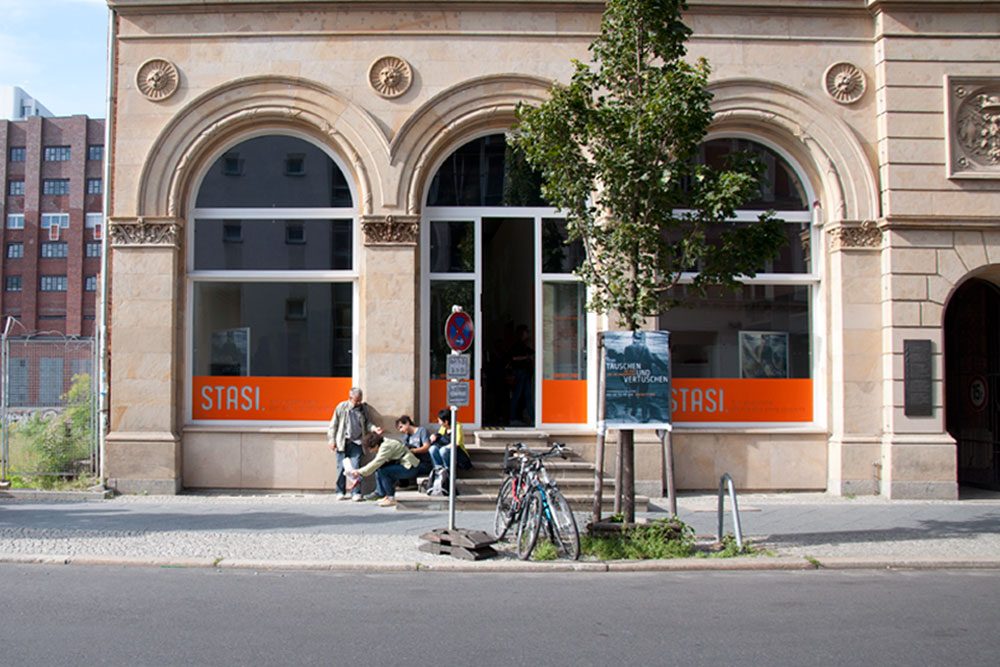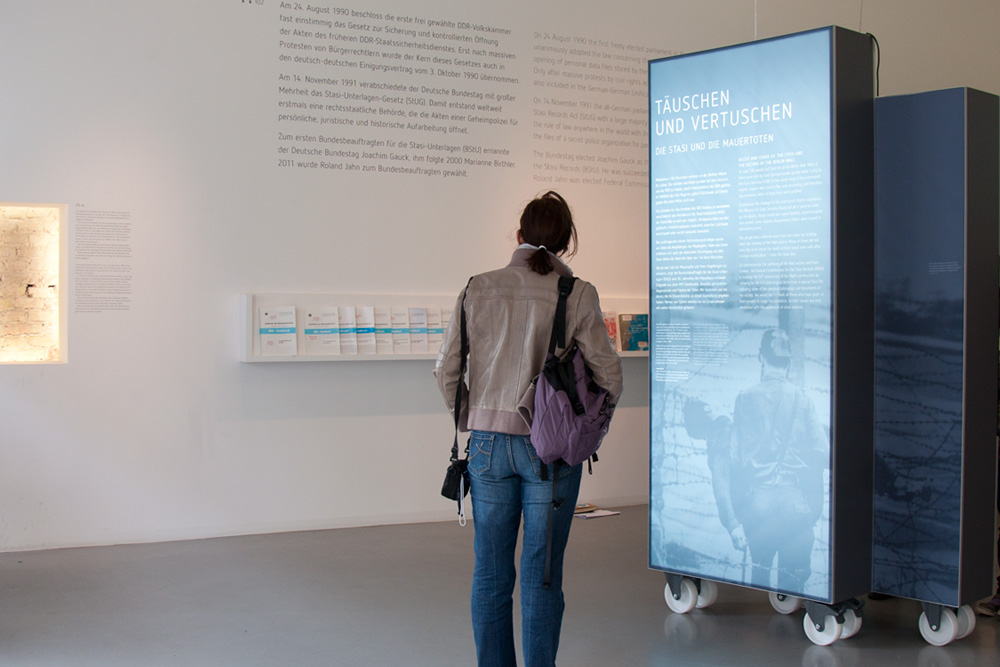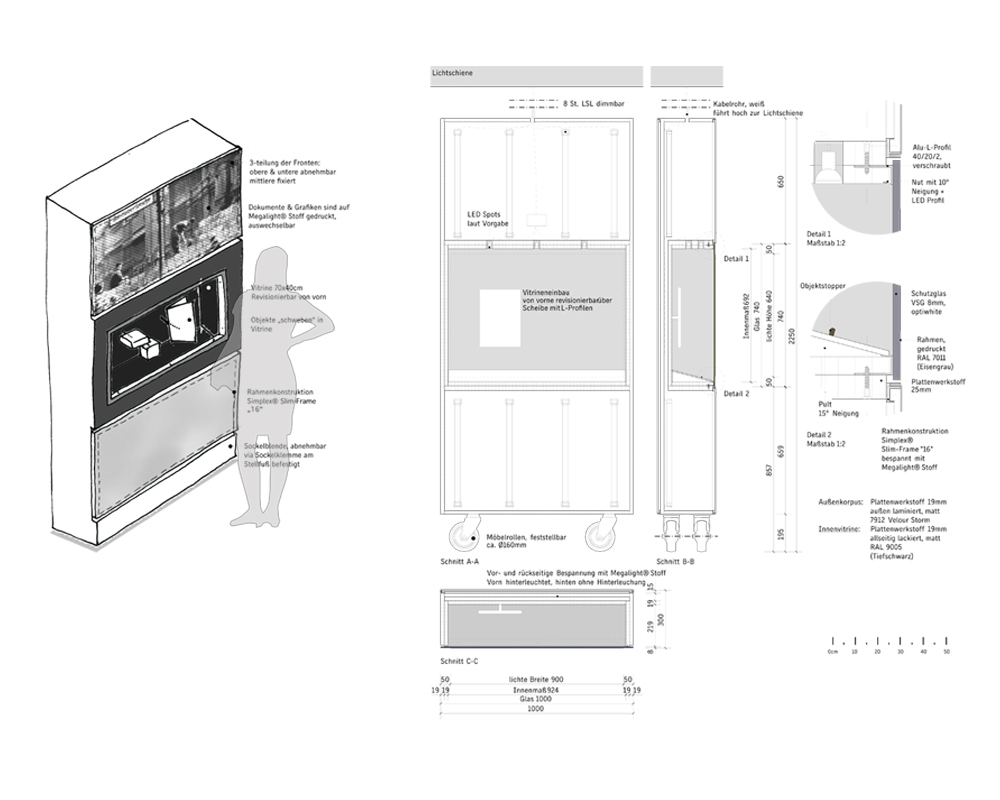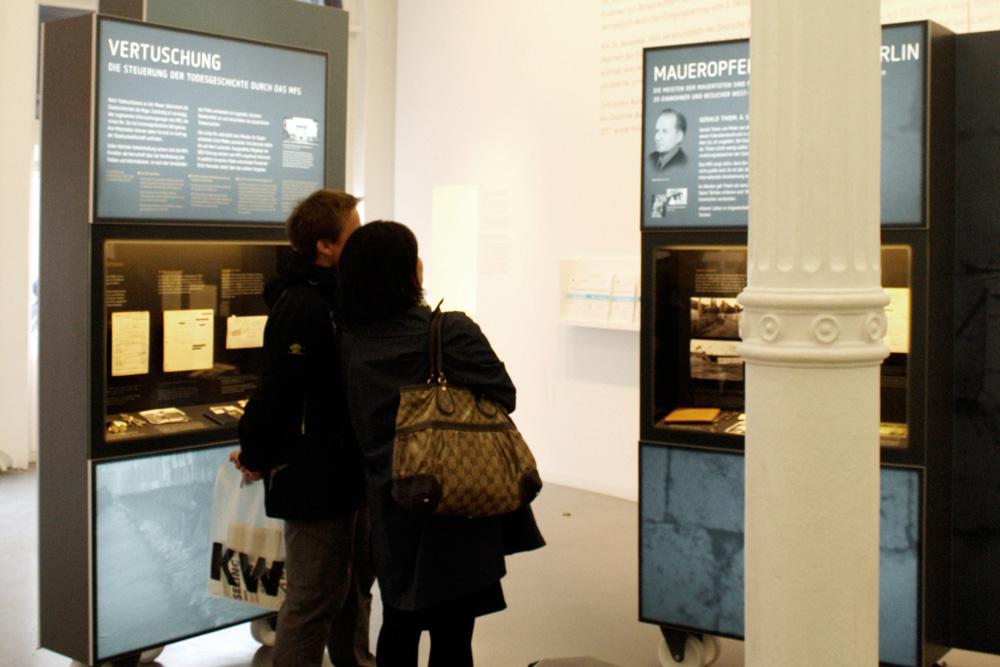 TÄUSCHEN UND VERTUSCHEN

Die Stasi und die Mauertoten
Anlässlich des 50. Jahrestages des Mauerfalls zeigte der Bundesbeauftragte für die Unterlagen des Staatssicherheitsdienstes der ehemaligen DDR (BStU) eine Sonderausstellung zum Thema »Täuschen und Vertuschen – die Stasi und die Mauertoten«.
Entstanden sind vier mobile Lichtkästen. Das Einleitungsmodul mit Großmotiv auf bedrucktem Stoff ist hinterleuchtet. Die drei weiteren Lichtkästen zeigen ebenfalls Bildausschnitte gedruckt auf Stoff, werden jedoch mittig von einer Vitrine unterbrochen. Durch die versetzte Rücken-an-Rücken-Positionierung von jeweils zwei Modulen wird der Großdruck auf den hinterleuchteten Stoffbahnen auf der jeweiligen Rückwand des Gegenmoduls weitergeführt.
Was? Sonderausstellung  Wann? Seit August 2011; seit Oktober 2015 in Frankfurt/Oder  Wer & wo? Bundesbeauftragter für die Unterlagen des Staatssicherheitsdienstes der ehemaligen DDR, Berliner Bildungszentrum des BStU, Berlin  Mit wem? gewerkdesign  Was genau? Grundlagenermittlung bis Objektüberwachung (LPH 1–8)
BStU | Täuschen und Vertuschen

On the occasion of the 50th anniversary of the fall of the German Wall, the Federal Commissioner for the Document Files of the Secret Police of the former German Democratic Republic (BStU) initiated a special exhibition about »Deceiving and covering up – the Stasi and the victims of the Wall«.

Four mobile light boxes have been created. The introductory element displays a large backlit photograph, the other three light boxes also show image details, but are interrupted by centrally located showcases. Due to the off-center back-to-back position of respectively two modules, the large backlit print is being continued on the rear wall of the counterpart.

What? Special exhibition  When? Since August 2011; since October 2015 in Frankfurt/Oder  Who & where? Federal Commissioner for the Document Files of the Secret Police of the former German Democratic Republic  With whom? gewerkdesign What exactly? Schematic design to object supervision (LPH 1–8)